Adieu, 2007.
Some
blogger friends
inspired me to do a recap entry of 2007. So let's start at the beginning...
January


I started on a bit of a melancholic tone,
remembering
the sudden loss of my cousin two years ago and the near loss of my mother in those same few months. It was the first holiday season without him and, though I didn't know him well, I watched as my near and dear uncle, step aunt and step cousin coped with the loss. And I looked back at the previous March and realized what a miracle it was that my mom survived a head on collision. The picture is testimony enough: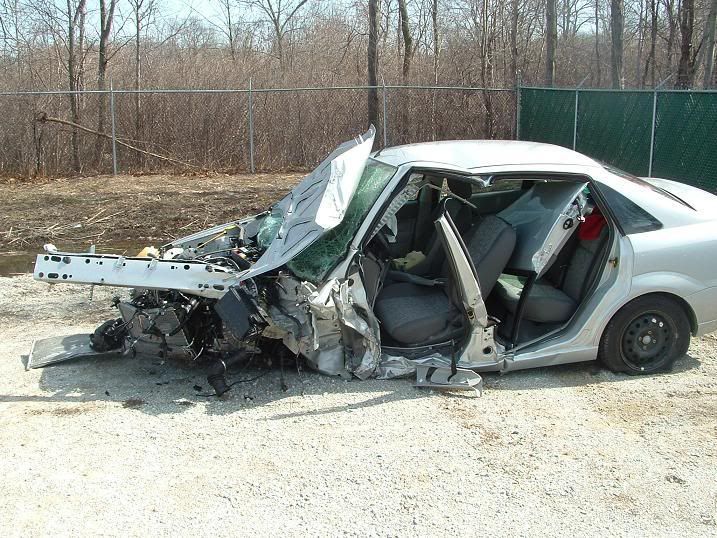 They cut the door away, and she came out of it with a broken femur and some bumps and bruises. There is a lot more to the story, but I won't go into that now.
February-April


I paced through my last
semester
of college and got a little more comfortable with
the unknown
. I took a chance and opened my heart a little (and consequently
got let down
, as well). I learned a multitude of things about God and myself and who my true friends really are. I also discovered a newfound fondness for everything
Mae
.
May-July
I
turned my tassle
, packed my room and hit the road with my family for one last summer at home. I worked at my beloved camp and made some fantastic memories. It was
golden
, and something about watching the moon dance off the waves and the sound of the water rushing against the shoreline helped me to find myself again, in the midst of a broken heart. I came to the realization that graduating magna cum laude with a journalism degree from a good school could be both very helpful and very useless in finding a job, and that it was entirely in God's hands. I learned to trust Him even more.
I landed a job as a journalist back in Tulsa and, once again, found myself saying goodbyes and
driving away
with a lot on my mind. I took a road trip east, then south, then west and managed to visit family and some friends in Nashville (one day I shall return).
August-November
I started a new chapter, even though I was back in a place I'd been so much before. I went through the motions of signing my life away on behalf of becoming an adult (going through new employee training, buying a new car after some nut totaled my
dearest Izzy
, getting something like seven kinds of insurance, getting my own place, paying my bills, the list goes on). I did grown up things, like buying a dining room table from Wal-Mart (and
living to tell about it
).
I had some
halting moments
, and learned how to truly forgive and heal. The term "water under the bridge" took on an entirely new meaning to me. I got
homesick something fierce
but had time to go
home
and be with my beautiful family for the holidays. I played my first show as a singer/songwriter and made some incredible new friends. I have a feeling there is much more to come.
December
I had the privilege of watching my best friend and her husband
welcome baby Cali
into the world. We simultaneously survived the worst
ice storm
in Oklahoma history and lived through what W decided was a state of emergency and a major disaster. In a twisted way, it made li'l ol' Oklahomey feel important.
I drove home with three friends on little to no sleep, despite the elements, and I had 12 days off to rest and enjoy my family and friends over Christmas and the New Year.
And here we are today. Hooray! I'll buy you a frappuccino if you clicked (and read) all those links.
Accelerando!