Dwelling in His Midst
I was uploading some sorely neglected Christmas photos from my camera this afternoon when I came across this one. The last night I was home for the holidays, this is what I faced: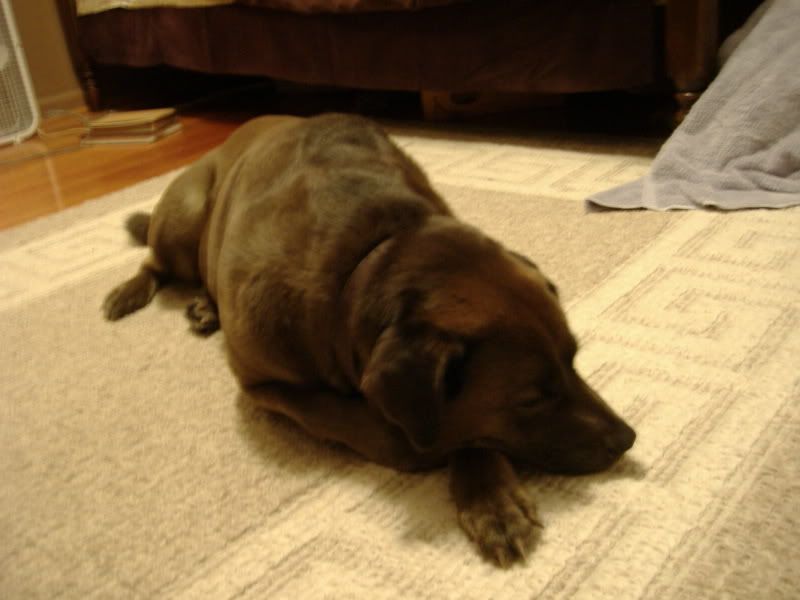 This is my baby. Her name is Grace (aka Gracie Mae, or Goose). I am convinced that she has special sulking powers that will pull your heart strings until you give in and do things her way. In this case, she was laying in the middle of my bedroom floor while I was
trying
to pack. Of course, I gave in and cuddled with her for a while, and maybe got a little teary eyed at the thought of driving away, once again, from my beloved family and the streets where I grew up. Home is where the dog is, I often say in jest, and she is 1,000 miles away in Michigan.
All this has gotten me thinking about what it means to make my dwelling place with God. All throughout the Psalms, I see the theme of making our home with God, of dwelling in His courts and His presence. Many conversations I have had the past month or so have centered around this deep aching, an acute longing, to be home. And ultimately, I know our home is in eternity. But as I sit around with friends that feel like family, worshiping God and talking about His ways and what is happening in our lives, I feel like I am somehow a step closer to that blissful place.
My friend
Symon
said something this week that really made me think about the significance of fellowship, community and gathering in God's name. He told the story of how his grandfather passed away last year, and how he was with his sisters and mom this past Christmas enjoying each other's company. There were moments, he said, that it seemed almost as if his grandpa was there, just because of the way one of them would articulate something or the way someone was acting. He said that his grandpa had been so close to them that they all carried part of him with them. The same thing is true of our relationship with Jesus.
You see, we are all made in God's image. We are broken icons that represent Him. So when we are all together, we see a rich and diverse reflection that is much more powerful and accurate than if we remained in solitude. And naturally, when we are all living according to ways of the Kingdom, unity will be in our midst. This is perhaps more a dream than a reality with the modern church, but I am beginning to see it take shape more and more as I am around the community I have discovered in this season of my life.
It is a beautiful story, and by no means have I arrived in terms of fully grasping what it means to be a part of God's Kingdom. But each day, each time I am with these like-minded people that want nothing more than God to dwell in our midst, I begin to see it more clearly.
Selah.