Beautiful Christine
She was black as midnight, and her big, dark eyes seemed to stare back at me from the photo on my computer screen, peering into my soul. Her pint-sized frame was covered by a light yellow dress with a big gold bow tied in front. She had what looked like pieces of candy, wrapped in each of her hands. I smiled at the thought of how candy might work to bribe my young nieces and nephew to stand still for photo. This little one will be 4 on Monday. Appropriately enough, Jon Foreman crooned in the background as I studied her:

She's somebody's baby, somebody's baby girl. And she's somebody's baby still.
The gnarly trunk of the tree behind her in the photo reminded me that an ocean and a continent separated us. But already, she had crawled into a space in my heart and taken up residence. For what seemed like the hundredth time that day, tears were in my eyes as my heart swelled with compassion for this precious little girl. Her name was on my lips and in my heart.
Christine.


Her name means "follower of Christ." I pray it will be true for all her days. This child could change the world, for all I know.
I did not have any earth-shattering, divine revelation where I knew she was the one I should pick. If anything, I was overwhelmed at knowing which child to sponsor. They all need sponsors. They all need someone to reach out to them. They all need the compassion of our Savior, expressed through His followers that want nothing more than to bring more into His Kingdom and to make sure we take care of one another.
I can hardly wait to receive more information about Christine and to start writing her letters and sending her cartoon band-aids and making sure she knows just how much she matters. I anticipate the day I can fly to Uganda and hold her in my arms (and I will, God willing). To feel her breath on my neck and her heart beating against mine. To swing her around and dance with her and tell her all the wonderful things God has planned for her. I don't know how long it will be until I meet her face to face, or what kind of woman she will become.
All I know is that something in her eyes stays with me. There is something in the significance of this new journey we are on together that will last for eternity.
I discovered a new little sister today. Her name is Christine, and she is a stunning reminder to me of God's love, grace and compassion.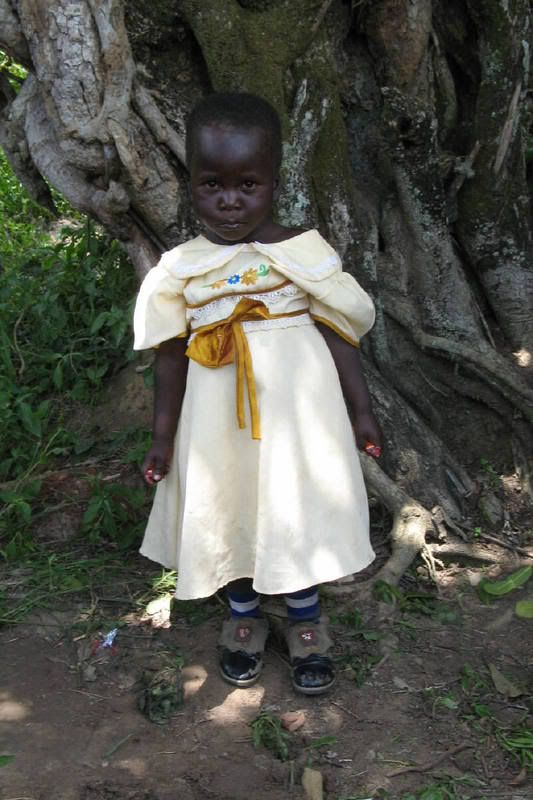 Happy Valentine's Day, friends.
[My sponsorship of Christine was inspired by a group of 15 bloggers that went overseas with Compassion International to Uganda, Africa. Each day, they recounted what they saw in words, videos and photographs. To read more about these "Compassion Bloggers" and to find links to their individual blogs,
visit here
. The blogs I followed, and that inspired me to sponsor, were those of
Shaun
and
Los
. To sponsor a child through Compassion International, please
visit here
. If you do sponsor, please
tell us your story here
. I promise you will not regret it!]