Positive Post Tuesday [round 1]
My "blogroll friend"
Brody
started this tradition, and I thought to follow suit. I cannot say I will manage to do this every Tuesday, but I would like to give it a try today. For those of you unfamiliar, Positive Post Tuesday is when some of us in the blogosphere dedicate a post to talking positively about someone we know. I think that today I will start with
Shaun
.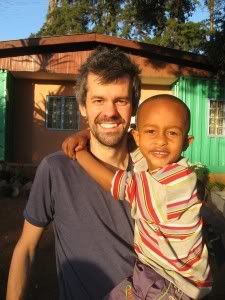 I met Shaun in the summer of 2006 when I did an internship out in Nashville. At the time, he and Brian led up Ikon, the college and career program at
The People's Church
. I attended all throughout that summer and really cherished my time with those folks. I hope to move back to Nashville...eventually. I remember leaving Ikon many nights and trying to wrap my mind and heart around some of the words Shaun said. He is truly one of the most remarkable teachers I have ever encountered, and he has never been afraid to provoke us to deal with the issues of today's society. He also happens to be a soft rock star, whose music I first encountered long before I met him. Need I say more?
During that summer, I was also researching my senior journalism project on Christians in the music industry. I interviewed Shaun and a few other dynamic folks in the process. He gave me very honest answers about his take on the church, the music industry and the trends and issues therein. The project turned out well, and I was glad to have Shaun as one of the voices in it.
Sadly enough, I haven't seen Shaun and most of the TPC/Ikon crowd since I left Nashville after that summer, but I've kept up with his blog fairly regularly and have enjoyed hearing what he has to say and seeing what he has been up to lately. In fact, when he and the
Compassion Bloggers
went to Uganda, I kept up with a few of their blogs and ultimately decided to sponsor a beautiful little girl named
Christine
. I am grateful for the inspiration, most certainly! Shaun is a passionate advocate for
Compassion International
and travels regularly to play shows, with the purpose of
getting more kids sponsored
. If you have not already, you should check out
his blog
and see what he has to say. He updates almost every day.
***
So there you have it. I am sure all 3 of my dedicated readers will appreciate the positive words. Thanks for reading along, guys!
Pass it on and link to your post here!