Positive Post Tuesday [round 2]
It has been a while since I jumped on the
Positive Post Tuesday
bandwagon. It's a rainy day and my to-do list is a little short, so I think I will give it a go.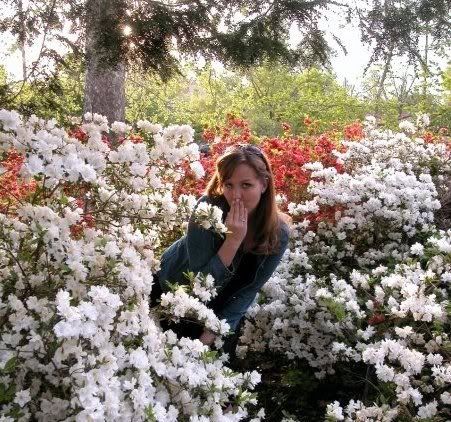 This is Rhema (aka RhemaLove). It may seem like a cop out to dedicate this post to my best friend, but I believe she deserves it. She just graduated from college this weekend and is currently on a plane to Hawaii with her spit-fire of a grandma for the week. I remember the day I met her, a wide-eyed transfer sophomore that wound up as my next door neighbor in my dorm. She came in on one of the hardest seasons of my life and was incredibly supportive, especially for someone who had just met me. We were fast friends that have lasted the past three years (and still going strong.)
Perfect strangers and friends alike have asked us on numerous occasions if we are sisters or even twins. We do have a lot in common: we are both artistic, writers, musicians, singers, songwriters, lovers of Asian food, culture and coffee...the list could go on. And then there are the places where we diverge. Case in point: she loves Johnny Depp. I think he's a creep. She is also a bit more liberal than I am. It drives me crazy sometimes, and I love her all the more for it. Nonetheless, the glue that holds us together will not readily be dissolved.
I make fun of her for being a hippie and a nerd (she really is) because she grew up in Boulder, Colorado, is fond of calculus and the way the universe works, kept a 4.0 all the way through high school and college and has recently begun sporting a "God is Green" t-shirt. She also loves all things organic. I realized her influence just this week as I unwittingly wound up with organic fruit strips and organic Tazo chai in my shopping cart.
Rhema has a way of bringing me out of even the most ridiculous of funks. She knows me way too well and has patiently endured many of my quirks. And she knows I will do the same for her in a heartbeat. She truly knows the best and worst of me and still welcomes me with open arms. Many times she has spoken powerful truth into my life and the lives of others. God is using her for His Kingdom in a powerful way.
She essentially put herself through school and has held her head high through a difficult senior year. She rose to the top in many student leadership positions and managed to pass all her classes with flying colors. She walked across that stage this past Saturday, was handed her "diploma" (the official one gets mailed in a few months), and had a smile on her face as she bid farewell to the friends that have become family to her these past few years. I am sad to see her go, but I get the feeling that she and I will end up in the same place again, God willing. For now, a few states stand between us.
So here's to Rhema, one of the most incredible people I know. You have been Positive Post Tuesday'd.
[Want to see more Positive Posts or even do your own?
Pass it on and link to your post here!
]